Most of my Christmas Songs will probably be new to you, but these two are BRAND NEW as of today!

"Go-Go-Go-Go Gold!"
- this song is about the Wise Men, Magi, or (eek) "3 Kings" as some people call them! Click here to hear "Go-go-go..." Click here to get the "Go-go-go..." downloads (MP3, Sheet Music PDF etc)
"Let's Jump with Joy"
- this song is aimed at a younger age group: 3-6s, KS1, Pre-K/Kingdergarten+. It covers the great events of Christmas, with room for you to invent some (obvious) actions / motions Click here to hear "Let's Jump..." Click here to get the "Let's Jump..." downloads (MP3, Sheet Music PDF etc)
They're both on the Christmas CD - a great present for Kids!! - click here
Time for a really bopping, foot-stamping, fun song to praise God!
How great is our Lord? THIS GREAT! So let's not turn away when he speaks to us through his word...
It's not entirely original, and that's brilliant, because it's based on Psalm 95 - the good ol' "Venite!" - but like you've never heard it before...
Click here to hear to it right now, then get the PDF Sheet Music free, and download the MP3 files for the song so you can sing along with your kids. Enjoy!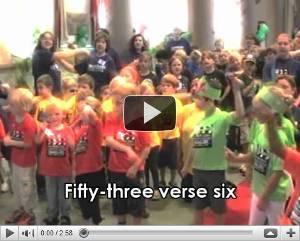 This is one of my favourite songs, and now you can hear a live version on YouTube.

I've given it the title: 'Children's Bible Song - "Fifty Three Verse Six" - great fun for Kids to sing in Worship!' (well, you've got to get those keywords in, haven't you?!)

Of course you can always listen here - on the jukebox - and get MP3 downloads or the CD it's on from the store.

Hope you enjoy it!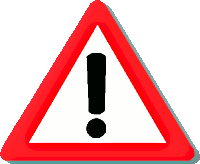 S-T-O-P stands for "Sorry, Thank you, Others, Please" - it's a great way of helping children (and adults!) to think about what to pray for. It's based on the kind of things we read in the Lord's Prayer (Matthew 6:9-15) and in Colossians and other letters by Paul (eg Colossians 3:17, 4:2).
You could use this children's bible song to encourage prayer, or as a mini-series about prayer over a few weeks, or as a holiday club theme, or just because it's fun and you'll think of great actions! It's great for kids to sing in all sorts of situations - go on, download it today!
Click here to listen on the Jukebox, click here to get it from the store
Nearly forgot to tell you! My free MP3 for May is the Children's Bible Song "God's Word is the Bible".
Maynard (my chimpanzee... he's the one with the squeaky voice) also appears on this song - go on, get it now!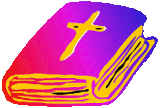 Hebrews 4:12 tells us that "the word of God is living and active. Sharper than any double-edged sword, it penetrates even to dividing soul and spirit, joints and marrow; it judges the thoughts and attitudes of the heart." - WOW! What a great reason to read read read the Bible - and that's what this song is all about!
Listen now on the Jukebox :: Get the download from the store