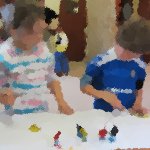 Planning a "Light Party" or something, for Halloween? Want to help your church children and their friends to "live as children of light" (Eph 5:8), and "put on the full armour of God" (Eph 6:11)? Trying to fight the flood of nasty stuff that everyone else says is "just a bit of harmless fun" (not the bible!).
Here are some songs to help you:
Hope that helps - enjoy the party!