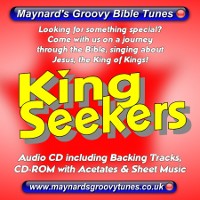 Looking for something special? Come with us on a journey through the Bible, singing about Jesus, the King of Kings!
The King Seekers Audio CD has 15 great songs, taking you from Creation to New Creation, and including "Do ya know the Bible?", "God has a plan", "Fifty Three verse Six" and many more great sing-along songs that kids love.
Backing tracks are also on the CD, and it works as a CD-ROM in your computer to give you the printable Sheet Music.