Strange really - it was Bad, it was Mad, and it was Sad - but all in all, it was a GOOD day for all of us. The day that Jesus died on the Cross, Good Friday. That's the wonder of Easter - and that's what the song Good Friday is all about.
It's from Mark 15:33-39, with the darkness, Jesus' cry, and the centurion's words. It's great for kids of age 5 and upwards, and even the grown-ups enjoy it!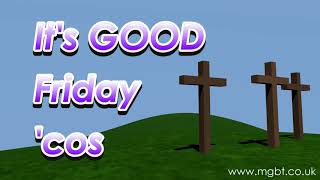 You can listen for free on the Jukebox, watch the YouTube Video, download the MP3 music from the store, get the PDF Sheet music for free, or get "Good Friday" on the Easter CD. Hope you enjoy singing it!