A brand new song for you - and it's a goody!
"Do ya know the Bible?" is a "Bible" song that'll have you dancing in the aisles (or demurely swaying a little in the pews). We've been singing this in school assemblies (ages 7-11) and the kids have been loving it - especially with the actions.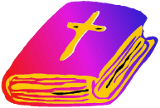 I was struck by Jesus saying to the Sadducees: "You are in error because you do not know the Scriptures or the power of God!" (Matthew 22:29) Eeek! Do we know them? That's what this song is about!
The chorus picks up on Jesus' teaching about His Word (Matthew 4:4, 7:24-25), and then the verses include the wonderful teaching in 2 Timothy 3:14-17.
Style-wise, it's Rock 'n' Roll! I can't stop singing it - hope you enjoy it too!
Time to do some clicking: "Do ya know the Bible?" on the Jukebox, "Do ya know the Bible?" downloads in the Store, "Do ya know the Bible?" free sheet music!