Great News from the 2009 UK Songwriting Competition: I entered "Good Friday" in the "Faith" Category, and "King Seekers" in the "Open" Category (I wasn't sure which category to enter, since these are kids songs...) and got to the Semi-Finals in both categories!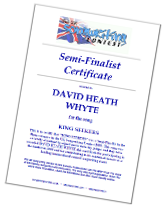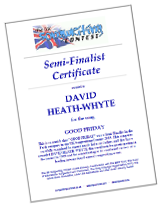 Both songs scored 7: "A score of 6 or 7 indicates that the song made the semi finals panels and is one of the stronger songs in the contest. All these semi finalist songs are considered by the selection panels for the finals and a score of 7 indicates that the song was a borderline finalist and almost made it through to the finals."
I'm very grateful to God for this song-writing thing - I love writing the songs, and kids enjoy singing them - and because they're all about Jesus and living for him: that's great!
Go to the Jukebox NOW to listen to the songs!!!