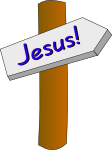 The song "Seven Signs" is all about the miracles in John's Gospel:
Water into wine, the Official's dying son, a lame man walks, 5000 fed, walks on water, a blind man sees, Lazarus lives - it's obvious who Jesus is! And... I remembered them all by singing the song!
Each miracle is a sign, showing the glory of Jesus: that he is the Son of God, come to this earth to save us.
I'm giving the full track away for free this month - click here to get it from the store, click here to listen on the jukebox.