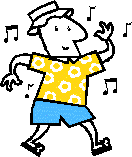 This one is guaranteed to get you dancing - a new* song all about the Apostle Simon Peter, Jesus' great disciple, the 'Rock'.
And it's Rocky 'n' Roll all the way as we hear about his transformation from Fisherman to Gospel Hero. How does this happen - it's all only because of Jesus.


Listen Now! Get the sheet music for freeeeee so you can use it with your group (press the 'sheet music' button on the jukebox). You can get a download in the store - MP3 downloads available.


This song was our theme tune for our HotShots Holiday Club in 2006 - four mornings finding out about Jesus as we followed Peter's adventures. Want the material? Contact me for info...
* Yes, it's taken me this long to get it recorded...