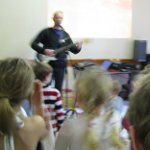 Looking for something to do at your Holiday Club or VBS or Backyard Bible Club this summer? Why not come with us and our Children's Bible songs that take you to...
Galilee
A great place where Jesus did loads of different things, helping us to see who he really is: the Son of God!
Holiday Club Theme: "Beside the Seaside"
Click to Read More »»